Exceptional events call for exceptional tax measures.For 2021, in response to the health crisis linked to Covid which has hit many households hard, the French tax authorities have introduced several tax measures.
Some of these measures are likely to have a lasting impact on your tax bill: don't miss them!
As a specialist in the taxation of cross-border commuters, Allo-Déclaration Suisse has prepared a selection of the most important changes to be taken into account for your Swiss cross-border tax return.
Overtime exemption for cross-border workers
C'est la bonne nouvelle fiscale de 2021 : les travailleurs frontaliers des cantons de Vaud, Valais, Jura, Neuchâtel, Berne, Soleure, Bâle-ville et Bâle-campagne qui paient leurs impôts en France peuvent bénéficier d'une overtime exemption, up to 7500 EUR.
Ces heures supplémentaires concernent les heures travaillées entre le 16 mars 2020 et le 10 juillet 2020. Il est aussi possible de bénéficier du dispositif pour le reste de l'année avec un plafond à 5 000 euros.
The exemption applies to a person who has worked more than 1,840 hours in the year (on a full-time basis). Since the tax administration's calculation is based on 46 weeks and 40 hours per week, and most contracts in Switzerland are between 42 and 45 hours per week, the probability that a cross-border commuter will be able to benefit from these exemptions is very high.
And this good news does not come alone as it is possible to retroactively apply this exemption for the year 2019. Talk to one of our tax specialists if you wish to check your eligibility.
Reduction of the tax rate from 14% to 11%
The 2nd tax bracket that was applied to income was reduced from 14% to 11% with a lowering of the corresponding tax bracket by almost 2,000 euros.
This is good news for the households concerned (either those on low incomes or those on higher incomes with a large family).
You will find the in our guide about the taxation of cross-border workers the 2021 tax brackets and tax rates (corresponding to one family quota share).
Taking into account of telework in the real costs
The 2021 tax return takes into account the exceptional situation of covid by covering the real costs related to the large number of people who have used telework. The payment of special allowances by the employer to take account of professional expenses in connection with teleworking is therefore exempted up to 50 euros per month when they are flat-rate, i.e. 2.5 euros per day, which can also be deducted as real expenses up to 550 euros per year.
Creation of a specific mileage scale for electric vehicles
Cross-border workers who own a 100% electric vehicle will be able to benefit from a 20% increase in their kilometre rate compared to other vehicles.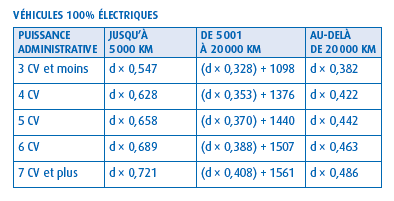 Increase the donations amount to organisations in difficulty up to EUR 1000
Non-profit organisations and associations that provide free care or meals to people in need or that are active against domestic violence will indirectly benefit from a tax incentive, with the increase of the donation limit to 1000 euros. This increase entitles the donor to a 75% tax reduction. This increase is valid for donations made in 2020 and those made in 2021.
More restrictive Pinel rental investment scheme
From now on, from 1st January 2021, the tax reduction relating to a Pinel scheme (a tax scheme that allows people to invest in rental property under advantageous tax conditions and to benefit from tax reductions) will only concern collective residential buildings for the acquisition of new housing.
Individual dwellings are therefore no longer included in the scheme. The tax reduction rates will be reduced in 2023 and 2024.
Tax credit for landlords who waive the November 2020 rent
Landlords, whether individuals or businesses, who rented business premises to a company in 2020 and waived the November 2020 rent, will receive a 50% tax credit, with restrictions on the amount of the credit depending on the size of the business.
These same owners will benefit from a full deduction of land income charges, including for the months when rents were not collected. The scheme also works for those who have foregone rent for other months.
Mixed compensatory benefits eligible for tax reduction
Previously, the tax regime applied to a compensatory allowance paid in the context of a divorce differed depending on whether the allowance was paid in the form of a capital sum, an annuity, or a mixed form (annuity and capital).
After the constitutionality of the taxation of mixed compensatory benefits was challenged by the French Constitutional Council, the French tax authorities decided to harmonise the different types of compensatory benefits.
In particular, mixed compensatory benefits are now entitled to a tax reduction for the part that is paid in capital. This reduction is 25% of the amounts paid as a compensatory benefit over the year, with a limit of EUR 30 500.
Thorough modification of the tax credit for energy transition (CITE)
The most modest households no longer benefit from the tax credit for the energy transition but from a premium called "MaPrimeRénov'". This premium will be paid at the time of the taxpayer's expenditure.
The CITE now only concerns owner households carrying out work in their main residence and subject to minimum financial resources.
Work relating to the insulation of opaque walls as well as expenditure relating to the acquisition of a charging system for electric vehicle batteries are given special treatment.
The CITE is a maximum tax credit of 75% of the expenses for the installation of an electric vehicle charging system. It is a lump sum paid on the basis of a list of expenses that are fiscally eligible. The list of eligible expenses and the related amounts can be consulted on the 2042 RICI annex.
Finally, owners of individual houses can benefit from the CITE in the form of a package of work to reduce the energy consumption of their home. In this case, the CITE is possible if the house has an energy consumption of more than 331 kwh and the work allows it to fall below the 150 kwh threshold.
Self-employed workers and liberal professions: exceptional aid
The self-employed, liberal professions and companies will be able to benefit from various exceptional aids, such as income tax exemptions on aid paid.
We help you with your French tax return
We are specialists in the taxation of cross-border commuters. We are experts in Swiss and French taxation. Entrust us with your tax return: you will save a lot of time and we will be able to optimise it. Make an appointment with one of our tax specialists in French tax returns for cross-border commuters.