L'attestation de résidence fiscale pour frontaliers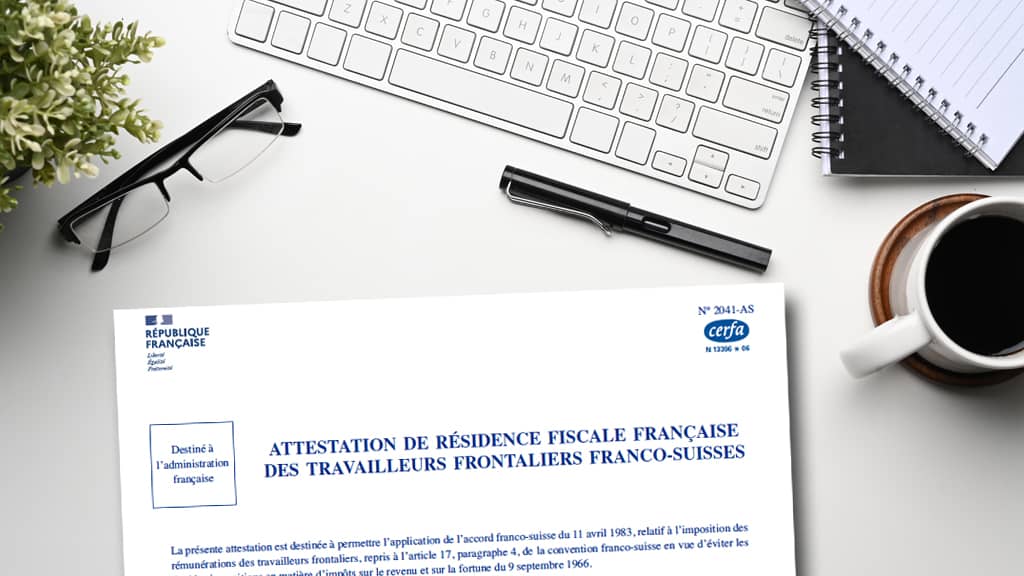 Every cross-border commuter working in the cantons of Bern, Solothurn, Basel-Stadt, Basel-Landschaft, Vaud, Valais, Neuchâtel and Jura must complete and sign a tax residence certificate. In the context of tax formalities that a cross-borer worker must carry out, this is particularly important because if it is not carried out, it may result in double taxation of the frontier worker's income in Switzerland and in France..
This document, called the "Attestation de résidence fiscale française des travailleurs frontaliers franco-suisses" (Certificate of French tax residence for Franco-Swiss border workers), must be completed by the employer and returned to the French tax authorities. This tax form can be downloaded from the French tax authorities' website.
Exception : if you are a Swiss national, resident in France and employed in the public sector, then you are not concerned by this procedure.
Add a header to begin generating the table of contents
How to download the 2041-AS form for border workers
The 2041-AS form can be downloaded from the French tax site. To do so, please click here:
1. Log on to the French tax site
2. In the search bar at the top, type 2041-AS and click on the magnifying glass to search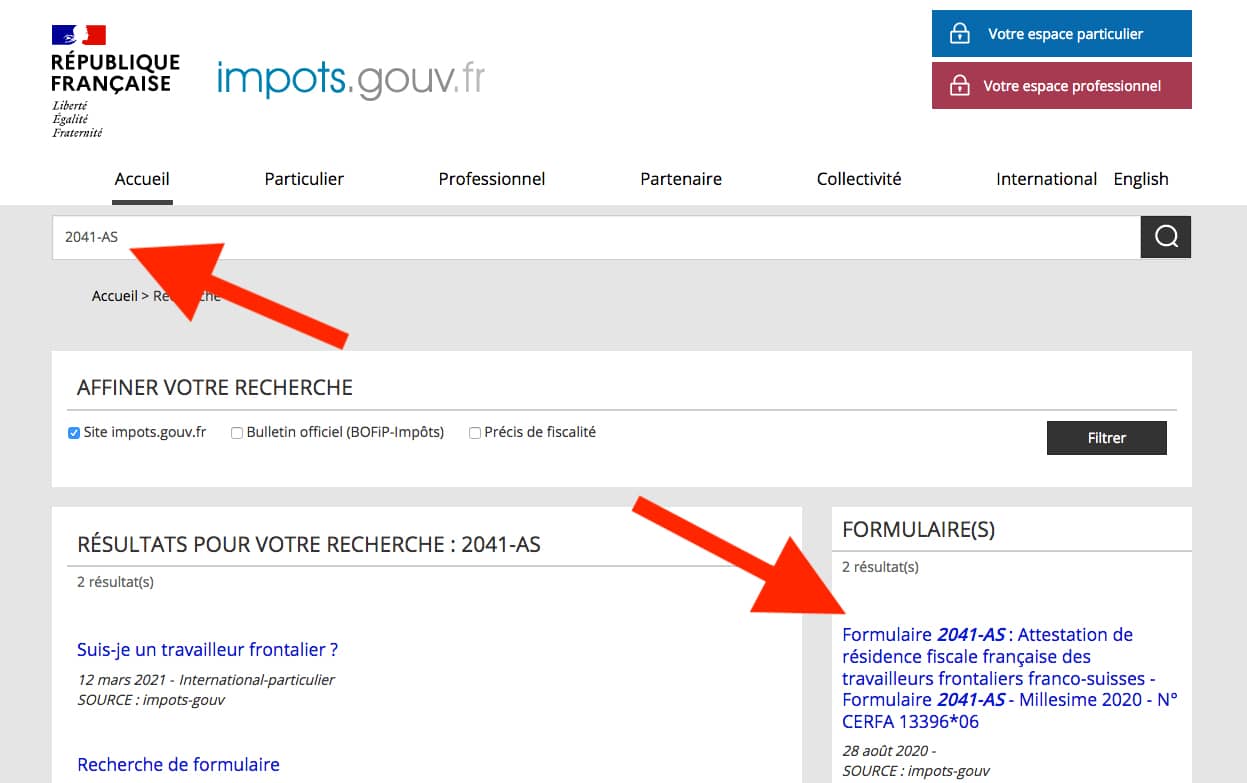 3. On the right, click on "Formulaires (Forms)".
4. Download the document by clicking on "Formulaire 2041-AS : Attestation de résidence fiscale des travailleurs frontaliers franco-suisses" (Form 2041-AS: Attestation of tax residence for French-Swiss cross-border workers") (you can also download the form directly without being connected)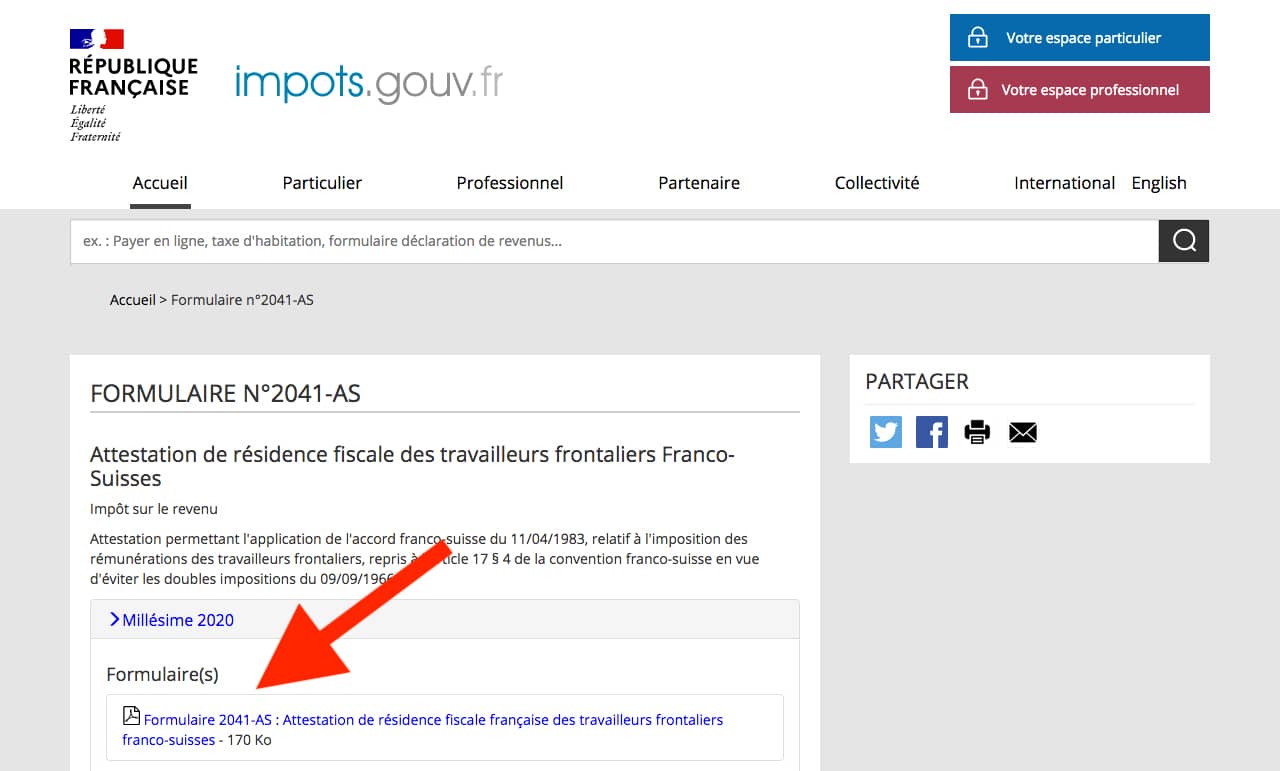 How to complete the 2041-AS tax residence certificate
1. Fill in the 2041-AS form (the form must be filled in 4 copies: one for the tax department, one for your employer, one for the tax authorities and one for you)
2. Attach the following documents to your file:
your Swiss employment contract
if you live in the Ain, also attach a copy of your rental agreement, your accommodation certificate or a copy of the deed of sale of your property if you have bought it
3. Send all the documents to the tax authorities in France directly via your personal space on the tax site
4. You will then receive your certificate by post.
When should the 2041-AS form be sent?
The tax residence certificate for border residents must be sent in the following cases:
when you take up your post in Switzerland
in the first calendar year after taking up employment (for example, if you started your employment in Switzerland on 21 April 2021, you will have to repeat the procedure on 1 January 2022).
every year thereafter, unless you complete the form "2047-SUISSE" in your online tax return. In this case, you will automatically receive your tax residence certificate.